Rental Property Catalog Setup in Equinox 4
The following defines the information required to build a rental property catalog in Equinox 4. Please consult with your account manager if additional information is needed. For catalogs that merge rental and sales buildings, please consult your account manager. Note apartment listings have additional requirements documented in Listing Manager Setup for Equinox 4.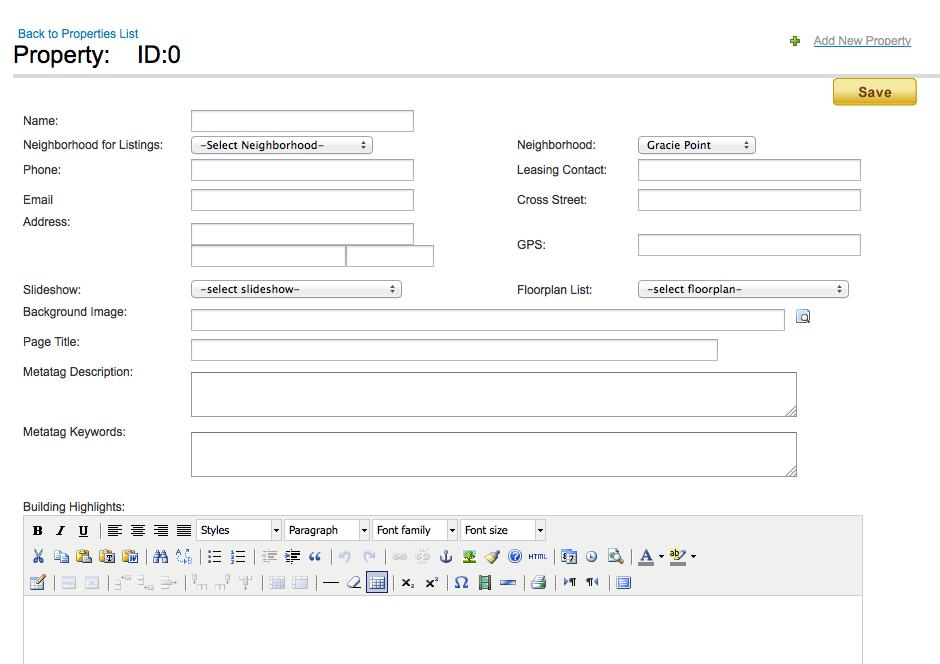 Please note: best practice is to create an Excel spreadsheet of the starred fields below. This can be imported into the Property Manager for initial setup and the remaining content added as it becomes available.
Property Gateway Overview Text – one paragraph describing owner/managers approach, history, focus on specific types of housing. Can be developed by Waverly Hicks editorial.
Neighborhoods – if the catalog is going to have a geographic focus, we need a schema of neighborhoods. Will the top level of the catalog be organized by borough, or smaller division thereof? These labels should reflect what you know about how your prospects look for apartments, as well as how your inventory is grouped.
Neighborhood Abstracts – one sentence used in list views.
Neighborhood Description Text – an overview of schools, transportation, religious sites, parks and other benefits and services available to the labeled community. In some installs, can be handled in PDF. Often developed by Waverly Hicks editorial team.
*Building Name – if no name available, use street address.
*Building Address 1
*Building Address 2
*City
*State
*Zip
*Cross Street(s) – text field is used to help visitors find main entrance
GPS location
*Geographic Neighborhood – see above. Buildings exist in only one geographic neighborhood.
Listings Neighborhoods – used for Listing Manager. Building can be in several overlapping listings neighborhoods.
*Leasing Contact Name – can be broker or internal leasing agent.
Leasing Contact Company
Leasing URL
Leasing Phone
Leasing Email
Building Highlights (overview) – paragraph text describing building in marketing language.
Building Amenities (bullets) – scan-able list of features, will affect search engine display.
Building Segment – If your buildings are divided into market segments that will be an organizing structure for the catalog (e.g. over-55, doorman, income-indexed) we will need to know what categories the property fits into. Optional based on design.
Sample Floorplans – we recommend at least one of every apartment size and if building lines vary, with outdoor space or convertible rooms. Can be handled as in-line display or as PDF download.
Sample Floorplan PDFs – optional based on design.
Building Thumbnail Image – horizontal, used in lists
Building Flyout Browser Image – vertical, used in browser tool.
Building Slideshow Images – grounds, entrance, lobby, model apartment, amenities, views. Size and shape will vary based upon design. Must be jpg
Building Slideshow Image Texts – brief descriptions of above images. Very important for search engines.
Building Background Image – large image for site designs that use layers.